SEO or search engine optimization is a crucial factor for the growth of a blog. If you optimize your blog content for search engines, then it will perform well in search results and get traffic. As a blogger, you might be looking to increase organic traffic for your blog by using efficient SEO tools.
With the help of SEO tools, you can manage keyword research, backlinks, content creation, rank tracking, site auditing, etc. Moreover, you need a proper strategy for how you are going to build your blog to increase traffic. Thankfully, SEO tools are very helpful for beginner bloggers to tackle the competition in this field.
For this purpose, you need to choose an SEO tool to help you with your task. To help you with this, we have listed the best SEO tools for beginner bloggers in 2022-2023 this article. So you don't have to spend time on research. You can simply choose a tool from the following list that suits your specific needs.
Why Should You Use SEO Tools?
Building a foolproof strategy that will work out for your blog is not so easy, and SEO tools perform as saviorsfor this purpose. You have to perform several tasks like keyword research, content optimization, performance tracking, etc.,which is not so easy. But SEO tools make all aspects of blogging easier for beginners.
These tools will help you in keyword research and data analysis and let you see your site performance in different locations across devices.SEO tools will also help you rank your blog at the top of the search results.
If you have multiple blogs, SEO tools will help you see the performance of each one. This can be frustrating if you check each site's performance manually and make the necessary changes. But with a SEO tool, you can do this task effortlessly. Let's now look at the list of different SEO tools.
Yoast SEO
RankMath
Google Search console
SEMRUSH
Ahrefs
MOZPro
Monster Insight
AIOSEO- All in one seo
Keywordtool
Growthbar
Yoast SEO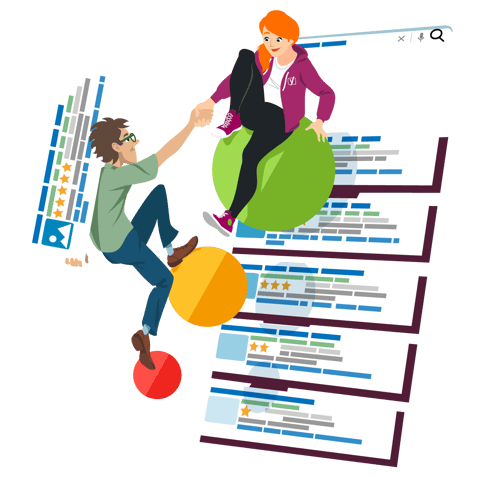 Yoast SEO is one of the most popular SEO tools available for bloggers. You can use the YoastSEO plugin in your blog to optimize and organize your content. It makes the WordPress interface more enhanced, allowing you to place keywords properly, add a meta description, and add internal & external links to your posts.
The best thing about YoastSEO is its on-page SEO feature because it helps write valuable content for better search performance. If you are looking for a simple SEO tool for your WordPress site, you can consider the YoastSEO plugin.
Features
The tool has a keyword optimization checklist for efficient readability and SEO analysis.
It allows you to edit your URL slug, add breadcrumbs, add meta descriptions, etc.
There is an option for schema markup, and it lets you see the preview of the page before publishing it.
Yoast SEO handles XML sitemaps, .htaccess, robots.txt file, and other technical elements.
Other features include hints for internal links, google search console integration and social media optimization
Pricing
Yoast SEO has a free version, but it includes limited features. If you want to explore all features of this tool, you can go for the premium plan. The premium plan costs $99 per year.
RankMath
RankMath is another popular SEO tool for WordPress bloggers. It is efficient, easy to use, and has a convenient user interface. This tool gets integrated with Google Search Console and Google Schema Markup to optimize websites for search engines and social media.
Features
Some excellent features of RankMathinclude title & content readability, keyword suggestions, internal and external link suggestions, keyword ranking, schema markup, sitemaps, etc.
It can also be integrated with google analytics and supports theGoogle Trends tool and keyword comparison
Pricing
RankMath has a 30-day money-back guarantee with 100% satisfaction. The Pro plan of RankMathcosts $59 per year. It has a Businessplan at $199 per year, which is suitable for businesses, freelancers, and small agencies. For larger agencies, RankMathhas anAgency plan at $499 per year.
Google Search Console
Google Search Console is an SEO tool that gives you reports for your website performance on Google. This will give you an idea of how google and other users view your blog. According to this result, you can optimize your blog.
You can use Google Search Console to submit your sitemap for indexing and track the indexation status. It will also allow you to see your site's performance on google search results.
Features
Google Search Console offers insights for your website such as impressions, clicks, ctr percentage, etc.
If there are any issues on your website, you can see that on this tool. Then you can correct those errors to improve your website's performance.
You can submit sitemaps to index your website.
There is a URL inspection tool to let you see the crawl information of a specific URL.
It enables you to monitor, test, and track your pages effectively
Pricing
Free
SEMRUSH
SEMRUSH is one of the finest SEO tools for bloggers. It has an outstanding user interface and helps content creators get more traffic for their blogs or websites. This tool uses keyword research, competitor analysis, and site audits to bring more traffic.
The SEMRUSH dashboard has everything one needs to know for beginner bloggers. Also, it provides strong online support.
Features
SEMRUSH has on-page SEO, keyword research, rank tracking, content optimization, competitor SEO analysis, and various other features to help bloggers.
Pricing
SEMRUSH is a popular SEO tool used by beginners to large businesses. It is available in multiple pricing options such as pro, guru, and business. You can subscribe to these plans at a discounted price if you opt for the annual plan.
The Pro plan costs $99.95 per month, the Guru plan costs $191.62 per month, and the Business plan costs $374.95 per month. Thus, you can choose a subscription plan depending on your requirements.
Ahrefs
Ahrefs is an excellent SEO tool to help you with keyword research. It will help you build a good keyword strategy and improve your rankings. This tool has keyword generators, content gap insights, backlink &SERP checkers, and comparison charts to help you rank higher on search engines.
The best part about Ahrefsis that it will help you outperform your competitors by auditing your full site and comparing it with your competitors. If you are new to the field of blogging and don't know how to optimize your blog for search engines, then Ahrefsis excellent for you.
Features
Ahrefs is one of the top SEO tools used by many bloggers. It has many useful features like keywords explorer, content explorer, site explorer, site audit, rank tracker, and more.
Pricing
Ahrefs is used by small content creators to large agencies. It is available in monthly and annual plans in four pricing options. The four pricing options are Lite, Standard, Advanced, and Enterprise. The pricing of these four plans per month is $83, $166, $333, and $833, respectively.
MOZ pro
MOZ Pro is a superb SEO tool for beginners and experienced bloggers. It has many features and helps you make your blog SEO-friendly by building an efficient strategy. The tool will help you increase the traffic, visibility, and ranking of your website or blog. It enables you to create high-quality content to outperform your competitors.
Features
MOZ Pro conducts site audits for crawling your site and gives recommendations for necessary improvements.
It does backlink analysis, keyword research, rank tracking, and other tasks effectively.
Pricing
MOZ Pro pricing is available on a monthly and yearly basis. Yearly plans cost 20% less than monthly plans. It comes in four plans – Standard plan at $79 per month, Mediumplan at $143 per month, Large plan at $239 per month, and Premium plan at $479 per month.
Monster Insight
Monster Insights is an excellent tool for seeing reports of your blog within your WordPress dashboard. You can simply download the Monster Insights plugin and start seeing your traffic sources, reports, stats, etc.
Once you have installed and activated the plugin, you have to connect your Google Analytics account with it. Then you can see your google analytics report on the WordPress dashboard.
Features
It shows real-time states and is perfect for eCommerce tracking.
This tool tracks file downloads, ads, events, forms, etc.
With monster insights, you can monitor your blog performance on specific devices, create custom dimensions, and check your google analytics report conveniently
Pricing
Monster Insights is available in three pricing options with a 14-day money-back guarantee. Its Plus plan costs $99.50 per year. This tool also has a Pro plan and anAgency plan at $199.50/year and $399.50/year, respectively.
Keywordtool
Keyword Tool is a perfect tool for beginner bloggers to find high-ranking long-tail keywords. It will show keyword suggestions once you type something in the search box. Keyword Tool uses the Google autocomplete feature to help you find valuable keywords. If you are looking for a simple tool for keyword planning, you can consider this tool.
Features
It helps analyze search queries on google and provides valuable suggestions for keywords.
This tool will help you increase your CTR percentage by suggesting good keywords depending on your domain and language.
Pricing
You can get keyword recommendations using this tool for free, but it has limited features. To get all features, you can opt for the Keyword Tool Pro plan at $79 per month. 
AIOSEO – All in one Seo plugin
All In One SEO or AIOSEO is another useful WordPress plugin that will help you increase your blog's traffic.With this tool, you can add URLs, media titles, and descriptions for all your web pages. It has a set of tools to allow you to write SEO-friendly content.
It has an onsite optimization feature and provides recommendations for improving your blog pages. Based on the content, this tool gives an SEO score. So, you can keep optimizing your content until the score gets better.
Features
It has a simple wizard setup and comes with an on-page optimization feature.
You can see the snippet preview and have an idea of how your post will look on search results.
This tool gives insights and SEO scores depending on the content.
AIOSEO also has XML sitemaps, local business SEO, and unlimited SEO keywords
Pricing
All In One SEO is available in four pricing plans, so you can select a plan depending on your needs. For beginner bloggers, the basic plan is perfect because it comes at $49.60 per year and is suitable for one site.
The plus plan costs $99.60 per year, the pro plan costs $199.60 per year, and the elite plan costs $299.60 per year.
Growthbar
GrowthBar is an outstanding SEO tool for content SEO,allowing you to optimize your content seamlessly for search engines. It uses AI and various other data points to help you create SEO-friendly content that performs well on search results.
It analyses your content and maintains proper keyword counts, link counts, and word counts. The tool also does keyword research, competitor and backlink analysis, and keyword tracking. Bloggers who want to make their content SEO-friendly can consider using this tool.
Features
The top features of Growth Bar are AI blog ideas, AI content, backlink analysis, keyword research, chrome extension for on-the-fly insights, etc.
Pricing
GrowthBarhas three pricing options – the Standard plan at $29 per month, the Pro plan at $79 per month, and the Agency plan at $129 per month. Therefore, you can choose a subscription plan depending on your requirements.
Bottom Line
There are thousands of SEO tools available for beginner bloggers, but deciding which one is suitable for you is not easy. You need to know what specific features the SEO tool provides and how easy it is to use. Also, budget is an important aspect to take into consideration. However, we have included the best SEO tools for bloggers on the above list. Therefore, you can select a tool depending on your budget and needs to take care of all your SEO aspects